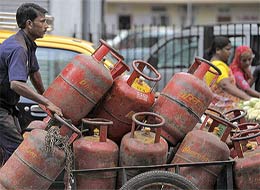 (Image courtesy: Jagran Post)
The Delhi government recently launched a program to distribute free LPG cylinders and stoves to 350,000 families to stop the use of kerosene as cooking fuel in Delhi. Cost to taxpayers is expected to be Rs 100 crores (approx. USD 18.5 million). The intention of the scheme is to help Delhiites prepare food in an environment-friendly way.
Let's discount the fact that this sudden generosity on the part of the Delhi government stems from the upcoming assembly elections scheduled for 2013 and suppose we are deeply convinced and touched by Ms Sheila Dikshit's concern for the health and well-being of Delhiites. One hundred crore rupees spent to earn goodwill of 350,000 families will certainly benefit the families that receive the goodies (assuming that the transaction cost for families to acquire the LPG connection do not exceed the cost for connection itself). What is not seen, on the other side of the ledge, are the crores of taxpayers who have to foot the bill, and in turn forego their acquisition of goods and services of an equal amount. But for the sake of argument, let's also forget about the cost imposed on this unseen and under-represented group. How will the actual results of this scheme measure up to its good intentions? Will the free distribution of LPG cylinders cause low income households to shift from using kerosene to LPG?
Households with lower income tend to use kerosene as primary cooking fuel, primarily because it is cheap; using a cleaner fuel like LPG figures very low in poor households' list of preferences. According to the Planning Commission data published in April 2012, 49% of all Indian households continue to use firewood as fuel for cooking. What is more interesting is that 62.5% of all rural households and 20.1% of all urban households continue of use firewood for cooking. The corresponding number for kerosene is 0.7% of all rural households and 7.5% of all urban households (2.9% overall).
The announced scheme will give cylinders to poor families at below market rates. At the same time, UPA II has announced it will cap the number of subsidised LPG cylinders for households. What I think will happen (and I may be wrong here) is that the low income households who receive free LPG connections and stoves will sell them to middle and high income families whose demand exceeds their allotted quota of subsidised LPG cylinders. Low income households will continue to use kerosene until the cost of doing so is higher than that of using LPG. Entrepreneurs face a classic opportunity for arbitrage: buy the cylinders where they are cheap (because of government subsidy) and sell them where they are dear.
Trying to change the spending behaviour in the name of protecting environment and helping poor will soon become a fruitless exercise at a huge cost to taxpayers. What government gives to someone, it must take from somebody else. "Do Gooders" of the world should realise that "market prices" are all the signal that is needed to drive behaviour of people and manage scarce resources. Distorting prices by subsidising or taxing only causes inefficient use and wastage of resources.
Post Disclaimer
The opinions expressed in this essay are those of the authors. They do not purport to reflect the opinions or views of CCS.