The government-owned telecom behemoths, BSNL & MTNL, are the epitome of inefficiency, bloated bureaucracy, and bad customer services. In addition, they cost the taxpayers thousands of crore rupees annually.
If you don't believe that, just look at the numbers. Airtel provides 4G connectivity across India, broadband connections and landlines with less than 15,000 employees. In comparison, BSNL is yet to provide 4G services to the whole nation despite having almost a dozen times more employees than Airtel.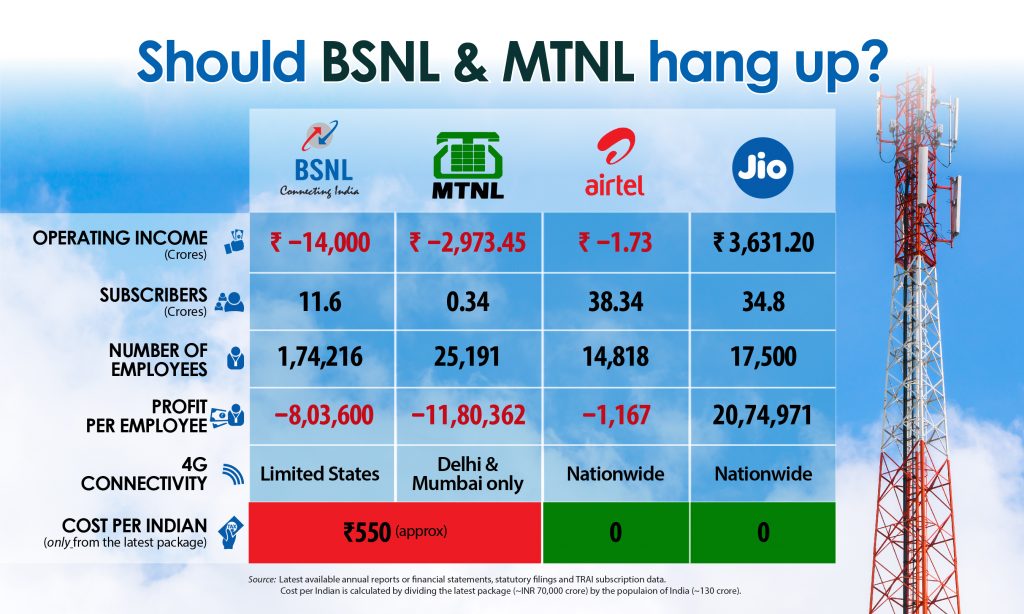 Further, BSNL lost 8 lakh rupees per employee while Reliance Jio made 20 lakh plus for each employee in the last financial year. MTNL is an even bigger national shame, it lost almost 12 lakh rupees per employee in the last financial year. Even more shocking is the fact that with all their employees and government largesse, these two corporations serve less than 12 crore customers. Reliance Jio and Airtel, on the other hand, are able to cater to over 70 crore customers, with impressive internet speed too.
While doing these disservices to the nation, BSNL & MTNL have gobbled up thousands of crores of taxpayers' money since 2007. The latest bailout of ~70,000 crore rupees is going to cost the 5.65 crore income-tax payers over 12,000 rupees each. That is for direct taxpayers. However, all of us pay GST and other indirect taxes. Cost calculated of this package per Indian is ~550 rupees. Can you believe everyone of us just paid BSNL & MTNL 550 rupees?
Time and again, these two companies have proved to be a sinking hole for the taxpayers. We should disconnect them permanently. I am not suggesting that we do not give what is due to the employees. Let us just give them all a nice VRS package for one time and end this periodical robbery once and for all.
Read more: Why BSNL Needs to Hang Up
Post Disclaimer
The opinions expressed in this essay are those of the authors. They do not purport to reflect the opinions or views of CCS.