Finance Minister P Chidambaram presented the (interim) Union Budget for the financial year 2014-15 in the Parliament today. A regular budget will be presented by the new government later in the year (post elections expected in May this year).
While all news channels and newspapers will analyse the budget in great detail, even when it is not a regular budget, in this post we have tried to stay away from dealing in large numbers and talk about a few things that may not find prominent mention in various other analysis.
Figure 1: P Chidambaram on his way to the Parliament to present the (interim) budget – A quarter and a billion fate in a suitcase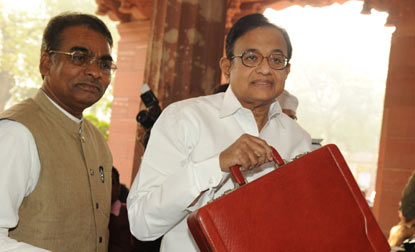 Image credit: Financial Express
Some issues with FM's budget speech
"As I said last year, we are not unaffected by what happens in the rest of the world. Since September 2008, the state of the world economy has been the most decisive factor impacting the fortunes of every developing country."
It is indeed true that India's fate today is very much intertwined with the fate of the world economy. However, policies of UPA I and UPA II hasn't helped India in reducing this foreign dependence.
"The target of 700,000 crore of Agricultural Credit is likely to be exceeded by the Banks. The target for 2014-15 is 800,000 crore."
We are fundamentally against such target-setting by the government. Allocation of scarce resources by the government guided by political exigency often leads to inefficient use as against an allocation done by the market.
"Madam Speaker, Jean Drèze and Amartya Sen have pointed out that "India was the first non-Western country – and also the first poor country in the world – to commit itself to a resolutely democratic way of governance."
What the Finance Minister appears to be referring to is his government's commitment to rights-based approach to policy making (e.g., right to employment, right to food, right to education, etc.). Democratic way of governance need not necessarily mean handing out various entitlements. A truly democratic way of governance should instead focus on providing opportunity by removing various state-granted privileges, encouraging competition by dismantling barriers to trade, and encouraging choice by trusting the citizenry with independence of making their own choices.
Fiscal prudence or just accounting gimmickry
Patting himself on the back, Mr Chidambaram said in his budget speech,
"Let me begin with the good news. The fiscal deficit for 2013-14 will be contained at 4.6 percent of GDP, well below the red line that I had drawn last year."
What the Finance Minister chose not to talk about was 'how' this was achieved. Prashant Perumal over at Mint has quite meticulously deconstructed the accounting illusion built by Mr Chidambaram. According to Prashant, three ways in which the Finance Minister has achieved his not-so-modest fiscal deficit target are with help from – creative accounting of North Block (office of the Ministry of Finance), debt monetisation of the Reserve Bank of India (RBI), and the generous public sector undertakings (PSUs) which declared higher dividends than expected by the government.
While the RBI supported the government in its spending-binge by monetising the debt, PSUs were arm-twisted into paying higher dividends. No wonder that even when government had already used up 95 percent of the budgeted fiscal deficit for FY2013-14 (April-December), it still managed to remain within the limit set by itself.
What bothers us most is the tactic of debt monetisation that has helped government meet its target by "socialising the costs of government spending". Inflation thus caused hurts poor the most, the very people government claims to help.
Increasing size of the government
Economist Robert Higgs' "ratchet effect theory", as explained in his book Crisis and Leviathan seems to apply not only in times of crisis (such as during times of war or economic depression) but also in ordinary times. No wonder the general government total expenditure (as percent of GDP) in India has shown a regular increase as seen in the figure below, and is also expected to follow the trend in the near future.
Figure 2: General government total expenditure (as percent of GDP) – Rising trend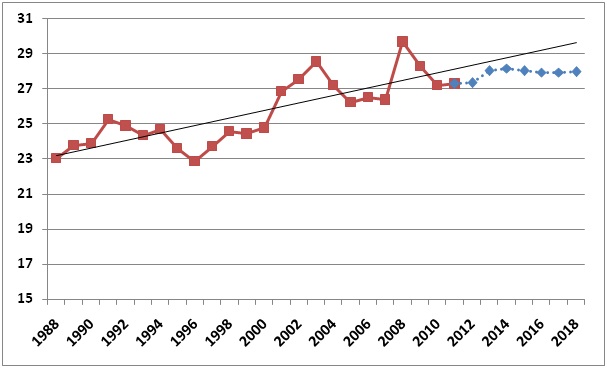 Source: IMF World Economic Outlook
It is unlikely that the trend of increasing size of the government will be reversed anytime soon.
Big government – A problem, not a solution
It becomes a self-fulfilling prophecy when the government assumes the responsibility of solving the problems that they themselves have created. They say they aim to achieve price stability but they continue with inflationary policies (government continues to live outside the means leading to monetisation of debt, etc.). They say they wish to revive the growth cycle but they continue to dictate the ways in which the resources will be allocated thus distorting the markets (government setting agriculture credit targets and increasing food, fuel and fertiliser subsidy, etc.). They say they wish to empower the youth and create opportunities for them, but instead of getting rid of our archaic labour laws they treat them as sacred. They say they wish to enhance investments and encourage exports, but they do not make it any easier for Indian entrepreneurs to do business and compete in the world market (India continues to lag its peers in Global Competitiveness Report, Doing Business Report or on Economic Freedom of the World Report).
Only way to break this cycle of self-fulfilling prophecy is by a popular understanding that the government is not the solution to all our problems. (Un)intended consequences of interventionist policies often exacerbate the problems they seek to eliminate.
I dream of a day when the process of budget making is not paid attention to as against the celebrated status it has today and the job of a Finance Minister becomes one of the most boring jobs as against THE most sought after job. And the suitcase containing the budget speech that is so famously shown before every budget (as shown in Figure 1 above) does not contain the fate of a quarter and a billion people.