Recently the economist carried a story called 'A Zero Contribution' on an innovative idea on how to fight corruption in India.
The next time a corrupt government official asks you for a bribe, think again before conceding to his/her demand. That's exactly what a physics professor of University of Maryland did when he created the zero Rupee note.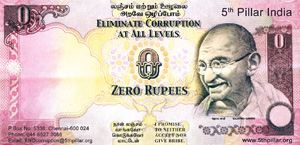 Mr. Vijay Anand, president of a NGO called 5th pillar liked the idea and printed close to 1m such notes. Instead of bribes, corrupt officials on receiving such notes are left dumbfounded. The article suggests that on receiving this note one official was shamed (or scared) into returning all the bribes he had solicited for electricity from a village.
Post Disclaimer
The opinions expressed in this essay are those of the authors. They do not purport to reflect the opinions or views of CCS.