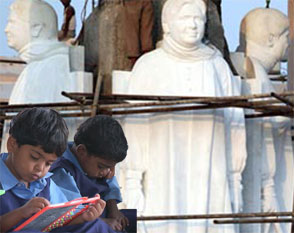 A leading national daily reported "Crores for memorials but no money for education". The CM of Uttar Pradesh has said that the State Administration does not have appropriate funds to go ahead with the implementation of the RTE and asked the centre to provide funds for the same.
What more could be said to highlight the irony of the situation! The UP government (read Ms. Mayawati) is busy building more and more effigies, calling them Dalit icons and to add to the misery of it all has also reportedly passed the Special Zone Protection Force (SZPF) Bill to constitute a special force of ex-servicemen for the protection of these very important signs of strength of the community.
Mayawati was allocated Rs.194 crores for the construction of statues of great leaders though as per Samajwadi Party allegations this figure is as high as Rs. 10,000 crores. The latter figure seems more believable in light of the findings of a RTI petition which shows that Rs. 4436 crores were spent on just 2 projects. The protection force is estimated to cost Rs. 8-9 crores additionally.
Calculating the expenditure for RTE implementation on the basis of 55:45, Centre to State share, the UP state government would need Rs. 8000 crores, less than the amount spent on memorials, to educate all children in the state.
Mayawati has no doubt been a symbol of woman potency in politics but the affects and admiration of this fact gets eroded with the extravagance shown by her at the cost of the right to education.
How can we come together to right this wrong?
To read this post in Hindi visit Shiksha par Siyasat
Post Disclaimer
The opinions expressed in this essay are those of the authors. They do not purport to reflect the opinions or views of CCS.