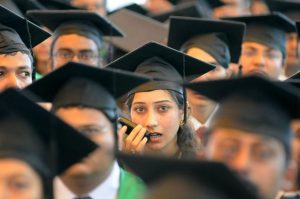 Union Minister for Human Resource Development Kapil Sibal recently used the   neologism 'omnishambles' to describe the all encompassing state of higher education in India. These comments (made at the recent Hindustan Times Leadership Summit in New Delhi) come at the end of what can only be described as a rather bleak year for our universities and colleges.
It is difficult to say what is worse, the fact that no Indian university or college made it to the top 200 of the QS World University Rankings earlier this year or the subsequent reaction of the Indian government and its regulators? Kapil Sibal's Ministry of Human Resource Development argued that certain socio-cultural differences were to blame for our poor performance. Even more bizarre and almost comical, the University Grants Commission contemptuously slammed the study and announced that it would conduct its own survey, taking into account what they labeled as 'India specific factors'. While the bureaucrats may be content to play ostrich, bury their heads in the sand and believe that the situation is not quite as bad as the media makes it out to be, the reality of the situation remains. That flimsy pretexts of 'globally unprecedented challenges', 'India specific problems' and 'unique socio-cultural elements' are routinely used by officials is hardly surprising, blaming everyone and everything besides themselves is quite characteristic of the Indian government and its regulators however, this myth cannot be allowed to continue.
As wonderfully articulated in a recent TV debate by Mohandas Pai, India's education problems are hardly unique to the world. Problems of access, quality and cost are faced by every major emerging economy. Access to institutions of higher education by minorities, affordability and quality are common debates even in the United States and Europe. China has achieved dramatic increase in quality and enrollment rate on a similar or even slightly larger scale. Therefore, there are lessons that can be drawn from these countries on how to improve our universities and colleges. While entire policy briefs and volumes can be devoted to this topic, the fundamental issue, in my opinion, remains autonomy. Despite massive increases in investment, improvement in infrastructure and setting up new institutions altogether, our higher education sector will never flourish unless it is freed from the shackles of bureaucratic control and the tyranny of the University Grants Commission. Currently, the UGC continues to determine quality of teachers by archaic measures of attendance and periods taken, it discourages cross-disciplinary teaching. Research papers are rarely written and even more rarely read or discussed. Its guidelines and diktats, issued with an unexhaustive energy, makes hiring dynamic professors with multi-faceted interests and the introduction of new courses and texts difficult or impossible.
Unless colleges and university are given the freedom to assess and teach students according to their own means, and foster a truly dynamic spirit of research and innovation, our higher education sector shall continue to remain in omnishambles.